I visited Western Carolina University with Kim yesterday. It takes about an hour to get to Cullowhee from Asheville. While she was in class, I settled myself in the lobby to sit, write, and to read my Sunday New York Times. I was sitting in a glass fronted multi-story building where I had a perfect view of the Smoky Mountains. While the place felt isolated, it was a beautiful.
What grabbed my attention was the play of the light on the trees, the feeling of closeness to the mountains, and the movement of the clouds. At one moment they would cover the peaks, at another they'd be nestled in the valleys. It was awesome!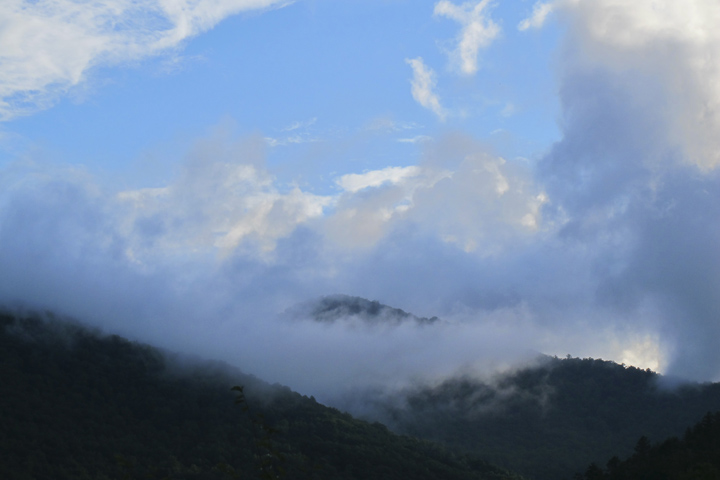 From time to time, I stepped outside to snap a couple of pictures as the light and tone of the mountains changed. The rains came. At one point, as I stood there with my camera aimed, a mountain cyclist, came out of the door and waited until I got the shot. With a tone of love, excitement and pride in his voice, he said, "She's beautiful, isn't she?" He sounded like the mountain peaks that we gazed on were the love of his life.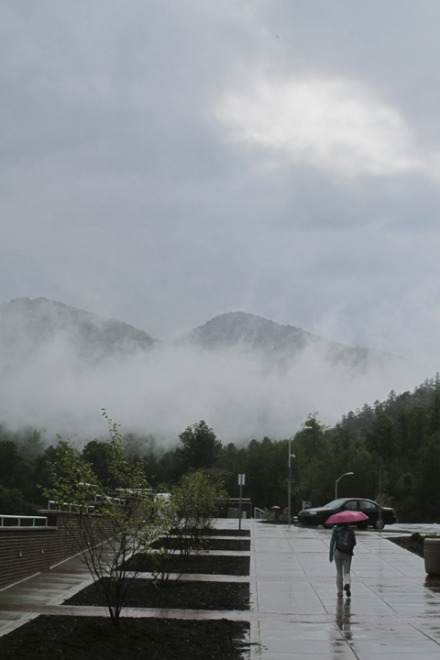 Mountain biking in Western North Carolina is not something that I am interested in, but I have friends who love it. In that moment, however, I connected to his passion and love for these mountains.
When I first considered moving to Asheville– I had little idea of the environment that I was coming into. I had never thought that I would have a relationship with mountains. It all seemed foreign to me. Here I was!
The words of one of my east coast photographer friends come to mind, "Now I know why they are called the Great Smoky Mountains."