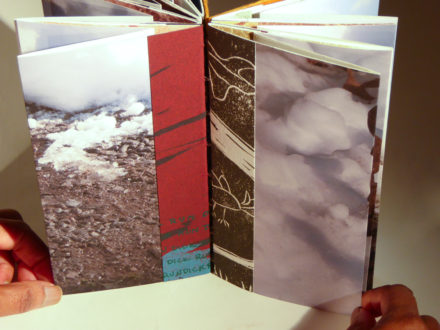 Asheville, NC, 2015.
Modified Star Structure with Coptic Binding; archival inkjet and cyanotype images, linoleum and silkscreen prints; on BFK Rives, Mohawk Superfine Text, Lokta, and Stonehenge papers;
8 pages; 5x 8.25 x 1 inch, opens to 8.5 inches; unique.
I made this book for an exhibition entitled "DIRT?" I knew I had a hard time looking at or thinking about the dirt under my feet.
When I moved to a small plot of land in the mountains of North Carolina after 30 years of pounding the pavement in New York City, I felt extremely uneasy about being among living things in the outdoors. Slowly I moved from looking out the window to digging in the dirt to plant a few seeds for flowers.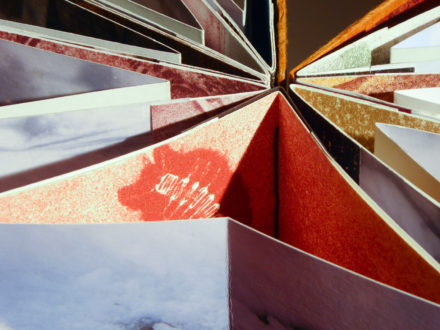 I made this book to explore my ambivalent relationship to the ground on which I walk, to the live soil in which I plant food that nurture me and flowers that bring me joy. The snow, the rain, the clouds, the sun all change what happens in the dirt in my back yard. The seasons cycle, but never really repeat themselves.
When I photographed West African Lobi burial figures planted in the yard's snow and mud, they somehow reminded me of my core relationship to dirt. I, too, am rooted in the soil. I, too, change with the seasons. Yet, when I learn that another friend has passed away, I say to myself, "No, no, no! Time is going too fast." Each passing feels like a loss, yet I feel I am closer to them. Is it because I am in the mountains?
Like a photograph, like the cycles of the seasons, the book contains much that cannot be seen.
A few randomly selected book pages are shown below