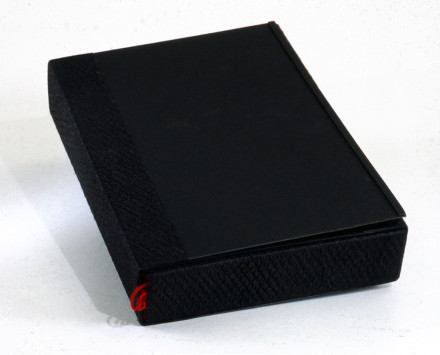 12″ x 9″ x 3 ", seven 'signatures' in portfolio case: black kozo and yuzen cover, ink brushwork on Arches, computer-generated ink and photocopied ink on vellum.
1996-1997
In 1996, I began working on Hiroshima, Hopes and Dreams, 1997, as a way of visually exploring the loss of my husband Aaron to a four-month bout with lung cancer in 1985. Using the context of our 1984 trip to Japan, I visualized it as a sparse, minimal bookwork with a few phrases. However, as I juxtaposed images and text, the project took on a life of its own. Each book dummy seemed over simplified and incomplete. As I expanded a phrase or page, the project became more emotionally complex, technically difficult and materially costly than I desired. After working around the clock for several months, Hiroshima was completed as a stab bound seven-signature work housed in a black box and wrapped in a black cloth. The package was just about the size and weight of the box in which Aaron's cremated remains had been returned to me.
Making Hiroshima was an important rite of passage for me. A highly personal book about mourning, it provided the seeds needed to resolve issues related to other projects in progress at that time.



.

There I am

With the camera around my neck.

How much of what I shoot

Is to confirm

What National Geographic taught me to see?

.

I remember taking this photo.

Looking through the lens

At patterns made by the stones

Thinking it was not a good picture

But wanted to remember details.

.

Now I wish I had focused

On more of the small

Insignificant things.

.

A solitary sitter

By the water's edge.

Could be any place.

Have taken that picture many times.

I carry it in my mind.

.

Within six months

After we return to New York

He is diagnosed as having

Terminal cancer and is

Given four months to live.

.

Stunned and totally at a loss

I learn to take his cue.

.

There is no better time than now.

Persevere.

Be candid and clear.

No easy thing to do.

.

After he dies

I become incapacitated.

Locked within layers of thin ice.

Fragile.

My sorrow connects to an

Infinite stream of grief.