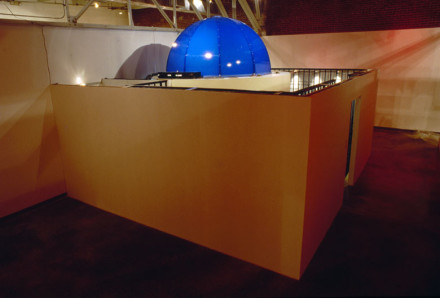 Growing up in the 1950's, I learned about Malcolm X through the fear and sensationalism created by the media. Malcolm X, a minister of the Nation of Islam (NOI), was a charismatic and intelligent speaker; being highly articulate and outspoken, he attracted the attention of the mass media including national television and print publications.
In the installation entitled EHM (El Hadjj Malik), I collaborated with Carole Byard to create an interior space where people could meditate on the meaning of Malcolm X in their lives.
The sculpture was created in the style of the nkisi, a container of spiritual force, and holds a monitor, showing drummers and dialogue about mine and Carole's perceptions of Malcolm X, in its abdomen. Growing up in different parts of the country, I in the South and she in the North, our perspectives varied.
The installation was made to suggest the architecture of a mosque and of a prison with faux jail bars and text panels with excerpts from several sources including Malcolm X: The FBI File by Clayborne Carson.
EHM debuted in the exhibition "Malcolm X: Man, Ideal, Icon" which was organized by Kellie Jones for the Walker Art Center in Minneapolis, December 1992 through April 1993.
.