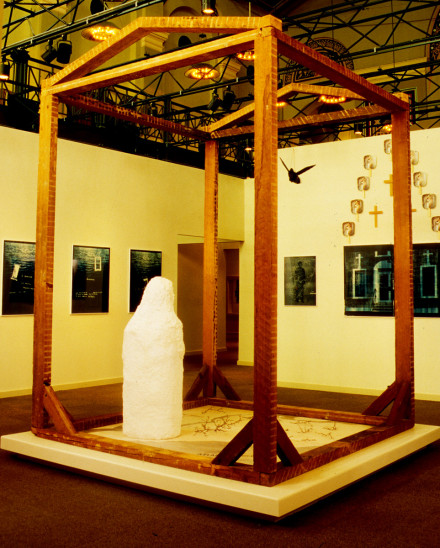 Sandy Ground (1992-1994), a multi-media installation of sound, sculpture, and cyanotype prints, was based on the history of the oystering community of Sandy Ground, Staten Island, where many "free blacks" had settled in the mid-1800s. It was created for the Newhouse Center for Contemporary Art, Snug Harbor Cultural Center, Staten Island, New York in 1992.
Concepts of shelter, sanctuary, survival, memory and loss were explored through a metaphoric interweaving of personal lives and deaths and the rise and fall of the community. The oyster beds that had been rejuvenated through implantation were later ruined by contamination from the human and industrial waste which poured into the river from the New York City area.



A free black woman, Eliza Morriss age 20, purchased a slave, Philip Cooler age 26, from his owners. They were married and had five children. Through hard work, they accumulated a fair amount of real and personal property.

.

Some time after they were married, Eliza decided to apply for Philip's manumission or freedom papers, but an 1806 law had been passed in Virginia forcing any slave freed after that date to leave the state within twelve months. The white slave holders did not want a lot of free black people in the state, because slave rebellions were not unusual. As each slave insurrection occurred, white hostility toward free blacks increased because they would assist the slaves. Philip's freedom was granted, but his petition to the legislature to remain in the state was refused.

.

In 1830, the Coolers moved to Staten Island with their five children: May, Eliza, Rebecca, Betsy and William. Soon after their arrival, Philip purchased 22 acres of land for $750.00 from Abraham Totten of Westfield in Richmond County. It looked out onto Prince's Bay. He built their house overlooking the bay and immediately entered the oyster business.

.

Once settled, Philip returned to Virginia and purchased his brother, Baylor. While there, he applied for and got his brother's freedom. When they returned to Staten Island, Baylor purchased nine acres of land adjacent to Philip's. Working together, their oyster business rapidly grew.

.

Two years later, in 1832, Philip sailed his sloop to New York City with a load of oysters to sell. It is said that on his return trip, while bringing back some bricks for his house, he must have run into a storm, that a sudden squall must have destroyed his boat. No one could find any trace of it. His body was found washed up on the shore.

.

Philip's funeral was held at the Rossville African Methodist Episcopal Church in Sandy Ground. Eliza, age 32, was now a widow with five children. After she buried Philip, she mourned and grieved in silence. Baylor and good friends, however, gathered around and encouraged and supported her. She went on to bring up Mary, Eliza, Rebecca, Betsy, and William. At some point, the name Cooler was changed to Cooley.

.

Eliza Morriss Cooley, Philip's wife, died in 1884 at the age of eighty-four.

.

Clarissa T. Sligh, 1994.