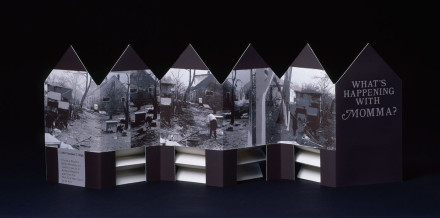 11″ x 36″ artist's book. Silk-screened with acrylic ink on 100% rag Coventry 320 gram soft white paper and 100% rag Stonehenge 250 gram cream paper. Ten point Century Schoolbook type hand set and printed on letterpress. Edition of 150 is printed on both sides.
Produced at Women's Studio Workshop, Rosendale, N.Y. 1988.
The work was originally made in 1987 as a Van Dyke print at the Lower East Side print shop in New York.
.