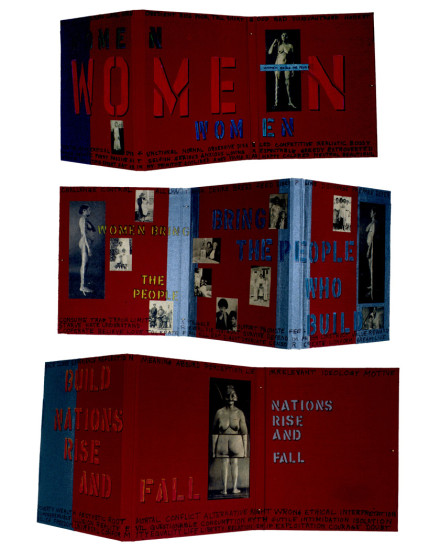 Untitled (For Momma), 2002, 16 inch x 48 1/2 inch wall book, in three parts. Red and grey bookcloth on binder's board, oil pastel, "Sharpie" pen, and inkjet dyes printed on Nepalese paper. The edition of two, a commemorative work for Momma reads: "Women bring the people who build. Nations rise and fall."
In 2002, I was invited to submit a photograph to the exhibition, "BEGGARS AND CHOOSERS: Motherhood Is Not a Class Privilege in America". While reflecting on the exhibition title I read an interview with the jazz singer and writer, Abbey Lincoln, who made her songs expression of self.
"The best thing you can do," she said, "is to be a woman and stand before the world and speak your heart." (1)
Lincoln's words, "women—the ones who bring the people…" deeply resonated with me. I thought about how a women's labor to bring people into the world is not valued, is considered worthless in terms of a nation's income – the market value of its' labor and productivity and yet there would be no nation without her. I thought about how a woman's body is valued as a commodity for bearing the nation, but that the control of that commodity was stripped from and continues to be taken out of her hands.
In 2006, Women Bring the People, an offset lithograph print made at the Brandywine Workshop in Philadelphia, came out of this work.
(1) Music/Wanted Better Songs, So She Wrote Them: Abbey Lincoln, Maker of Her Own Genre, The New York Times, March 3, 2002.
.
.